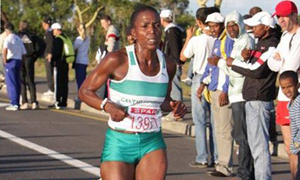 I started running in 2004 when I joined Celtic Harriers due to my interest in the sport.
Today I am a professional, 35 year old, top 10 athlete who has excelled in 10km, 21km, 42km distances, and cross country having represented Western Province in all of these. I have also won many races in the Western Cape.
I am passionate about my running and aim to improve my times with every event that I compete in. 
Sport Achievements

| Date | Event | Description & Venues | Position |
| --- | --- | --- | --- |
| 2005 | TWO OCEANS |   | 5:35 |
| 2006 | TWO OCEANS |   | 5:30 |
| 2006 | COMRADE ULTRA MARATHON  |   | 9:34 |
| 2007 | TWO OCEANS |   | 4:54 |
| 2007 | COMRADE ULTRA MARATHON  |   | 9:34 |
| 2008 | TWO OCEANS |   | 4:35 |
| 2010 | Century City | 10km | 36:46 |
| 2010 | Mamre 2010 | 15km | 58:27 |
|   | SA 21km Champs | 21km | 82:16 |
|   | Cape Town Marathon | 42km | 3:03 |