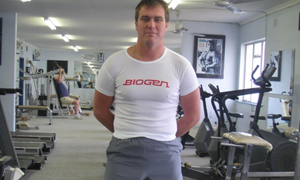 My name is Jan Friedrich Wilhelm du Plessis – Will to my friends. I'm 32 and I'm an amputee, but I like to think there's much more to me than just that!
In 1998 I was a typical active guy studying for a Diploma in Tourism. I was the Sports Portfolio Rep on the Student Council and I dreamt of being an Adventure Activities guide – rock climbing, shark cage diving and bungee-jumping – that's what was going to pay the bills! I was 20 years old, and I was bullet proof!
OsteoSarcoma is prevalent in young people who are physically active and play a lot of sports. As it usually occurs in the limbs, amputation is often the only course of action – after an initial knee replacement operation and then months of chemo, on November 14th 1999 I had to admit defeat and go in for amputation! 

I like to think that I accepted what was happening graciously and with decorum – I chatted to my nurses, I moved myself onto the gurney to be moved into the operating theatre; I wasn't fazed even though no member of my family was able to get to my bedside in the hours before the operation. I think my sporting background helped me deal with what was happening to me, and allowed me to cope a little better. It enabled me to deal with the ramifications in a more positive way … there's enough times in sport when you've got to accept a situation or decision that you're not necessarily happy with … I applied that same thought-process to my cancer and losing a leg!
Its takes about 6 months on average for an amputee to learn to walk on their first prosthesis – I used my determination & resolve to walk within 15 minutes and go backpacking in the UK 6 months later! I stood for election in the Student Representative Council again and this time got elected as Chairman. So as well as dealing with my own issues and learning to walk, I was also attending conferences & functions; parties & social gatherings. I had to make speeches in front of large audiences, help some younger & more insecure students "find their way" – all the while I was learning how to live without my left leg.
I eventually finished my studies and got employment immediately. I worked in an office and cycled to and from work even though my leg was only made for walking and normal daily use. I could do my job and get on with life in general. I had a great group of friends and they didn't allow me to take myself and my disability too seriously. After all, life sometimes does cost and arm and a leg! I even started going to cricket training again and enjoyed the struggle to rediscover playing the game with one leg. Things in general went well, I was enjoying life and the little victories I experienced on a daily basis but my thirst for adrenaline soon made me realise that I could be doing more. I should be pushing the boundaries; I could be achieving anything I set my mind too.
In April 2003 I left my family, support structure, friends and a decent enough job to go to the UK for a two year working holiday. It was scary to say the least, I had no idea how scary it would get. I found work at a Health Farm in Hampshire and within 2 weeks of being there joined the local cricket club. I started playing social cricket with able bodied people and managed to compete and hold my own. I ended up playing there for 3 seasons and during this time scored three 50's and had a best bowling of 5 for 12, including a hat-trick.
About 2 months after joining Liphook & Ripsley Cricket Club I was put in touch with Jeff Levick, Chairman of the Hampshire Cricket Board & organiser of Disability Cricket. At that point there where 12 counties that played in a league and I made my debut versus Dorset, scoring 52 not out opening the innings. I have now played 7 seasons for Hants with a highest score of 152 off 25 overs & bowled decently without much reward, aside from the team playing well and winning most of our matches. My big reward came when I joined the England National training camp at Loughborough and was made captain of a 'Rest of the World' team that played England in an exhibition match at the Rosebowl, Southampton. I also made the Southern Counties regional side that now plays an annual national tournament at Loughborough.
After coming back from the UK in 2007 I came to work at Groot Drakenstein Games Club. A cricket club that's part of South African cricketing history, it's situated in the picturesque mountains of the Boland, surrounded by vineyards. As manager of the club I run the bar, take bookings for the facility, do the admin, take responsibility for the clubhouse and manage the staff that works here. Before the start of the season the club stages a golf day to raise funds for cricket development. As manager I plan, arrange and co-ordinate the whole day from taking registration to being master of ceremonies. The funds raised at this day are put towards a cricket development tournament for 10 year olds in our area. 12 Schools play in a 20 overs league that gives approx 180 kids their first introduction to cricket. I plan, organise & arrange every aspect of it. I make the food, do the umpiring & scoring, the coaching and write the match reports. In return for this I experience their joy and share in their happiness when they play cricket. It's the most rewarding thing you can do with your time, working with kids. My aim is to set up an academy and give more opportunity to the local talent, developing them into the stars of the future.
Because G.D.G.C. is mainly a cricket club I get the chance to go to the UK during the SA winter and play non-disabled club cricket in the Berkshire league and play County Disability for Hampshire. My aim is to develop and coach my way across the south of England, growing my experience and expanding the disability structure so international disability cricket becomes a reality.
Over the next 5 years I aim to expand the u/11 tournament here at G.D.G.C and start up an academy. I hope to develop the facilities and provide the community with the chance to play sport. During the next year a database of disabled cricket players need to get set up and regular training sessions held across the Western Cape. In short I would like to touch the lives of people around me through cricket.
To do this though, I need your help. I need a new leg! Something that's more "user friendly" and sports enabled. It will probably cost R70,000 and need to be replaced in 4/5 years, so I'm hoping to find a sponsor who can help me now and maybe continue a relationship into the future.